SHAPE Vermont Grants
Action For Healthy Kids' School Grants (K-12) – Deadline April 5
In order to get every kid healthy and ready to learn, Action for Healthy Kids' Game On and Parent led grants provide funding and resources for schools to improve or introduce new nutrition and physical activity programs. With a $1,000 grant you can build a school garden, get equipment for active recess, host nutritional taste tests, start an activity club and more. Applications are open from Feb. 4 through April 5, 2019. For more information, check out School Grants for Healthy Kids.
Action Based Learning Game Changer Grant (K-12) - Deadline May 15
The 2019 Action Based Learning Game Changer Grant is available to all K-12 and university educators to apply for up to $10,000 in Action Based Learning or Kinesthetic Classroom products. An award like this could be.... "A Game Changer"! Deadline is May 15. All information can be found on the Game Changer Grant Page.
Math & Movement Workshop Grant (PreK – 12) – Deadline May 15
Support your active classrooms initiative by applying to host a full day Math & Movement professional development workshop at your school! Math & Movement is a kinesthetic, multisensory approach to teaching math that incorporates physical exercise, stretching, cross-body movements and yoga. Check out this video of a student using movement-based learning to actively learn to multiply. The $4697 grant includes an on-site workshop and active learning floor mats. The grant also includes over $250 of active classroom training materials for up to 30 teachers of each grant recipient. Apply here.
Calling All Creative Teachers for Real-World Walkabouts Initiative
ActivEd has launched its second annual Real-World Walkabouts initiative. Teachers can submit ideas for incorporating physical activity while still teaching valuable education concepts. Contributions will help build momentum for the shared vision of increasing movement in the classroom. Submit to the ActiveEd website. ActivEd will publish the winning idea on their blog in addition to receiving a $50 digital Amazon gift card.
Good Sports Equipment Grants (K-12)

Good Sports equipment grants serve youth in economically disadvantaged areas of the country. Schools that indicate enrollment in Active Schools on their application receive added consideration. Apply Here.
Saucony Run For Good
The Saucony Run For Good Foundation is committed to informing the public about the cause and prevention of childhood obesity and provides funding to optimize the impact and success of community organizations that promote running and healthy-lifestyle programs for youth. Approximately 10-20 grants are awarded each year. Nonprofit organizations that demonstrate the program positively impacts the lives of participants through their increased participation in running are eligible to apply. Applications December 15 & June 15
USA Field Hockey equipment
FUNdamental Field Hockey is a youth development initiative designed to expose field hockey to thousands of children nationwide by providing free field hockey equipment and emphasizing fun physical activity! Learn more about applying for free equipment here.
The Children's Obesity Fund
The Children's Obesity Fund seeks to educate parents and children about the rising obesity rates in America, reverse the statistics and dangerous trends, and help prevent the next generation from continuing down this alarmingly unhealthy road. The fund would like to give money and support nonprofit organizations who share the goal of eliminating the epidemic of childhood obesity. Learn more about their grants here.
Local Grants
The Vermont Community Foundation was established in 1986 as a permanent source of support for the state. They are a family of hundreds of funds and foundations created by Vermonters to serve their charitable goals. Their funds and programs provide more than $12 million a year in grants in Vermont and beyond. To see the list of a wide variety of available grants and their criteria, link here.
The Donley Foundation is a private grant-making foundation created in 1987 through the generosity of Edward and Inez Donley. Its mission is to promote self-sufficiency and achievement for disadvantaged children, individuals, and families through the support of education, literacy and other means. Deadlines for grant requests are March 15 and September 15. For more information, link here.
Clif Bar Family Foundation Small Grants are awarded for general organizational support as well as funding for specific projects. Small grants average approximately $7,000 each. Applications are reviewed three times a year; the deadlines are the 1st of February, June, and October. Priority is given to applicants "who address funding priorities from a holistic perspective* Protect Earth's beauty and bounty. Create a robust, healthy food system. Increase opportunities for outdoor activity. Reduce environmental health hazards. Build stronger communities
Many more grant resources can be found here at the SPARK Grant Finder site
Check back here frequently for other grant opportunities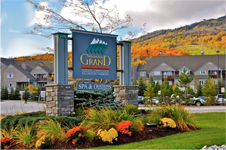 Date: October 24th and 25th, 2019
Time: Thursday 9:00am - 4:00pm
Time: Friday 8:00am - 3:30pm
Location: Killington Grand Hotel, Killington, Vermont